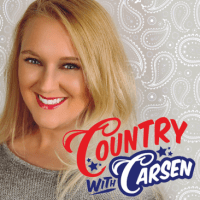 Big D and Bubba's Silverfish Media presents Country with Carsen show (10am-3pm ET weekdays).
Before heading to Nashville, Jessica Humphreville (also known as Carsen) did a stint at MTV and worked at WRCH –FM Hartford.   She headed south and worked on air at active rock WBUZ and rock WRQQ in Nashville.  Carsen went country with Marty McFly and Stew James in morning drive on WKDF.
In a recent Billboard article with country format expert, Phyllis Stark, Carsen describes her new midday program as being music-centric, but with breaks focused on discussions of pop culture and country artists from a "friendly, fun voice," with listener calls and artist interviews mixed in.